NASM is one of the world's leading certification providers within the Personal Training & Nutrition industry, with some noteworthy stats:
Approx. $440.1M annual revenue (ARR)
Almost 1M visitors to their website per month
More than 30.000 monthly customers
Today, we're going to show you exactly how NASM has grown from 0 to 1 million monthly visitors — and how you can use the same strategies they've used to achieve this, for your own business.
(Note: This is a digital marketing analysis not a review of their programs and certifications.)
Here's how NASM gets most of their web traffic:
Do you see something odd?
Yep, that's right. Most of their traffic isn't from Social Media, it's from Search! Beyond direct traffic, it seems as though NASM has invested a lot of time, funds and resources to growing their traffic through SEO.
With a pretty outstanding blog, a proper Content Marketing strategy and an advanced targeted paid keywords strategy, it makes sense that their direct traffic is substantial.
Download the NASM Case Study
(PDF version)
Get in a comfortable position and get ready to take some notes as I'm about to show you the key marketing tactics NASM has used to promote their world-class fitness training certification and programs.
Chapter 1: Having a Proper Website
The Homepage
None of the marketing strategies I'm about to show you would be effective had NASM not invested the time and resources to build a properly structured website that's optimised to convert (aka. make sales).
Let's take a look at their homepage:
If we take a closer look, we can analyse the following sections:
#1 Proof + Security
It's crucial that visitors and especially people who are thinking of investing their hard earned cash in their training, feel safe and secure before making a purchase.
NASM does this well by disclosing certain numbers & statistics that help build trust:
0% fees: breaking down that 'fear of buying' barrier by making clear there are no additional charges
1,300,000 students: also works as a FOMO tactic so people feel encouraged to join a community of others in the same boat
80+ countries: reduces the fear of being location dependant, having the availability to study and live anywhere
30+ years of experience: emphasizing their experience will again build that trust
#2 Cover Carousel
Currently NASM is promoting some of the hottest offers on their site. For example, they promote a $300 discount on the Certified Personal Trainer program. Furthermore, the slider continues with subsequent offers, which are updated from time to time. These great offers grab the attention of their visitors and encourage them to look further into their programs.
#3 Bundles
What better way to increase your AOV than Bundles!? (Average Order Value)
Bundles are simply a set or group of programs, offered at a reduced price. This is a win-win situation for everyone:
NASM sells more and has a higher turnover per person
The buyer acquires more programs at a better price as opposed to buying them separately
Bundles can be used in other businesses such as:
A PT offering a bundle of 5, 10, 15 or more training sessions at a reduced price
A nutritionist offering a bundle of 6 sessions in one offer
A supplement or health store offering a bundle of 2 or 3 products at a 20% discount
#4 Products
Just like any other shop, there's usually a list of the best-selling or most-known programs/products that lead to their product page.
#5 Virtual Conference
Virtual Conferences or Webinars use the power of video to engage with old, existing and new members. The way NASM has adopted this is as follows:
The visitor watches a video trailer to understand what's about to come, what will be discussed and what you will learn (basically it's used to build excitement and curiosity)
The visitor signs up by inputting their details, and is now automatically considered a Lead for NASM, in other words a visitor has now become a prospect
They then attend a value-packed Virtual Conference, absorbing new and helpful information. Towards the end of the video, is usually an introduction to their paid programs, which essentially gives the viewer an opportunity to enter and find out more
At the end of it all, the sole purpose is to obtain data (aka a prospect's email) so that they have the opportunity to, what we call, "warm up" a potential customer via a series of automated newsletters in the form of emails, that gradually encourages you to buy.
#6 Lead Contact Form
Finally, for visitors who are interested in receiving more information about their programs, can do so by entering their details into a Contact Form, which not only collects contact information but also and most importantly… the program you are interested in!
But you may be asking why?
Because at some point down the road, you will receive a sequence of emails that directly relate to the program you are interested in. We can safely say here that NASM does a fantastic job in segmenting their email leads list.
Then of course, once you've filled out the form, you are directed to a thank you page with clear CTAs (Call To Action; this is usually an actionable button such as buy now, add to cart and so on…).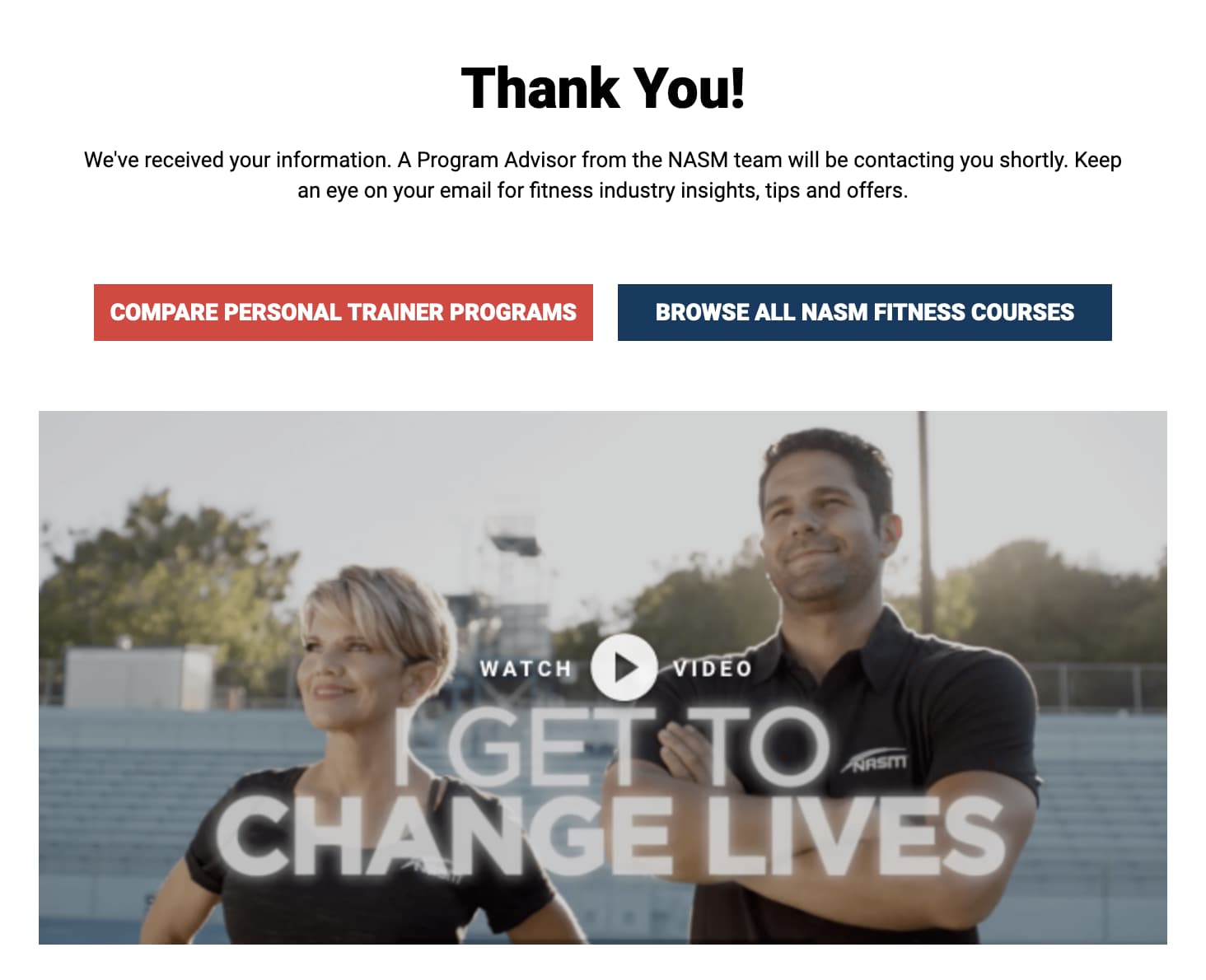 The Product Page
This is where is get's interesting because the Product Page is where the conversion happens. Visitors land on this page via the following:
All CTAs that promote the respective program
Emails
Ads
Facebook posts
And many other marketing activities
See here for example: https://www.nasm.org/products/nasm-cpt-guided-study
This is NASM's opportunity to sell its program as best as it can….
This is where they "convince" strangers to buy….
…And it must be executed in the best possible way!
Here's a list of some of the advantages of NASM's Product Page:
Simple and to the point
Clear CTA with a complimentary color palette, well aligned to their brand's identity
The discount/offer is clear and obvious
Includes a full program description
Clear and concise program benefits
Clear and concise list of program's contents
Includes social Proof / Testimonials from real customers
Includes bundles / upsells for a higher AOV
Includes related products
The main disadvantage, I'm going to point out here is it's design and layout – as it's far too simple, isn't up-to-date and uses a similar run-of-the-mill structure that their competition also utilises.
I wanted to also add here that the use of Tabs do not allow users to view all information in an elegant and reader friendly way.
In my opinion, I believe that NASM could do with a product page revamp in order to take full advantage of their great content. Here's an example of a high converting Product Page that could be integrated:
https://aahf.info/product/srfit-mature-fitness-program/
In contrast to NASM's Product Page is the content including its benefits, features and objectives that appear in a complete, ready friendly and aesthetically pleasing Landing Page.
So let's move onto their Landing Page!
The Landing Pages
NASM, in addition to their main website, has also built a variety of Landing Pages. The Landing Pages that we will discuss are the following two:
The landing pages that are obviously integrated in the website
And those used only for the purposes of running the Ads
Now let's look at both types…
Type 1: Website Landing Pages
An example of type 1 is: https://www.nasm.org/continuing-education/certified-nutrition-coach disclosing information about the Nutrition Coach Certification…
This format is much better than their respective product pages, both structurally and visually.
Buy why?
Because these Landing Pages include the following:
A clear Value Proposition: BECOME A CERTIFIED NUTRITION COACH
The offer is clear: SIGN UP TODAY AND SAVE 40% – ENDS OCT 16TH
The CTA button stands out due to aesthetically pleasing color contrast
Placement of interactive visual aids such as videos whereby the visitor can learn more about the certification in an engaging an non-invasive way
Every potential customer can clearly visualise their current and desired state and a pathway to bridge that gap as it is clearly positioned: AS A NASM CERTIFIED NUTRITION COACH, YOU WILL BE ABLE….
The features & benefits are clear and easy to understand
The use of real testimonials from real customers to help build that trust for prospects
FAQs to answer pre-sales questions
And of course a Lead Form in order to collect data of potential customers
This is proof that a Landing Page can raise the Conversion Rate vertically, compared to that of a simple Product Page. The potential that lies within a Landing Page in order to convince a prospect is enormous!
Besides having a well designed page, here are 3 simple things you need in order to build a Landing Page that converts:
Excellent copies
A product that people want
An irresistible offer
Type 2: Landing Pages for Ads
The second type of landing page we'll be analysing is the one NASM has built to specifically drive visitors to the page, from ads.
What kind of ads?
Google & Facebook Ads of course!
Let's look at an example:
When you google the phrase: "nasm personal training", you will see the following ad:
…which leads to this particular Landing Page: https://trainer.nasm.org/become-a-cpt-s2l
Before we move on, let's answer a very logical question:
Why does NASM (or any other business for that matter) use Landing Pages to drive traffic to their website and not their homepage, for instance?
It's because this way they can provide their prospects with a very personalized experience, without any distractions.
It fulfills the exact purpose of the visitor's reason for looking in the first place… "Looking for Personal Training?"…
They will see the NASM PT program containing all the information they're after.
Continuing on, let's have a closer look at the actual Landing Page:
See something familiar?
Its structure is quite similar to that of the previous type 1 Landing Page, which includes the following:
A Value Proposition (it's not so clear and can be improved ) 😛
A clear Offer
Use of a Lead Form at the top
Clearly states its Features & Benefits
Use of Testimonials from real customers
Use of FAQs
What can we improve?
Optimise the USPs of the program in order to be more clear
Same for the Value Proposition (i.e. Headline)
Add a Lead Form at the bottom of the page
Add more visual aid to break it up, for instance: Video Testimonials
Obviously we've just discussed only a few out of the many other Landing Pages that NASM possesses.
Here are a few more:
Convinced that your landing pages need a touch-up? Here are a few helpful tips to help you improve your own Landing Page:
Use consistent messaging throughout your content and keep it as ready-friendly and uncomplicated as possible. Remember to be yourself (stay true to your brand's tone of voice/identity)
Have extremely clear Offers & CTAs
Be consistent with your ads & your landing page
Provide a modern, clean and user friendly layout that is optimised for conversions
Remove all distractions: Keep it simple!
Don't ask for too much information as this reduce your chances of collecting important data (a name and email will do the trick)
And always look to improve your website, copies, images and so on!
Download the FREE
Landing Page Blueprint to make more $$$
Summary
NASM has most definitely laid down pretty solid foundations to convert inbound traffic into leads & sales. If their visitors convert almost instantaneously, then this is great news!
But it's more likely that collecting potential leads and turning them into paying customers is a more realistic approach, but this special lead-generating strategy will be mentioned a little later!

We're halfway there, so now let's move onto NASM's Digital ads!
Chapter 2: Digital Advertising
Google Ads
Since we've already had a little sneak peek into NASM's Google ads, let's now look at their strategy in more detail.
First of all, let's look at some interesting insights via SimilarWeb: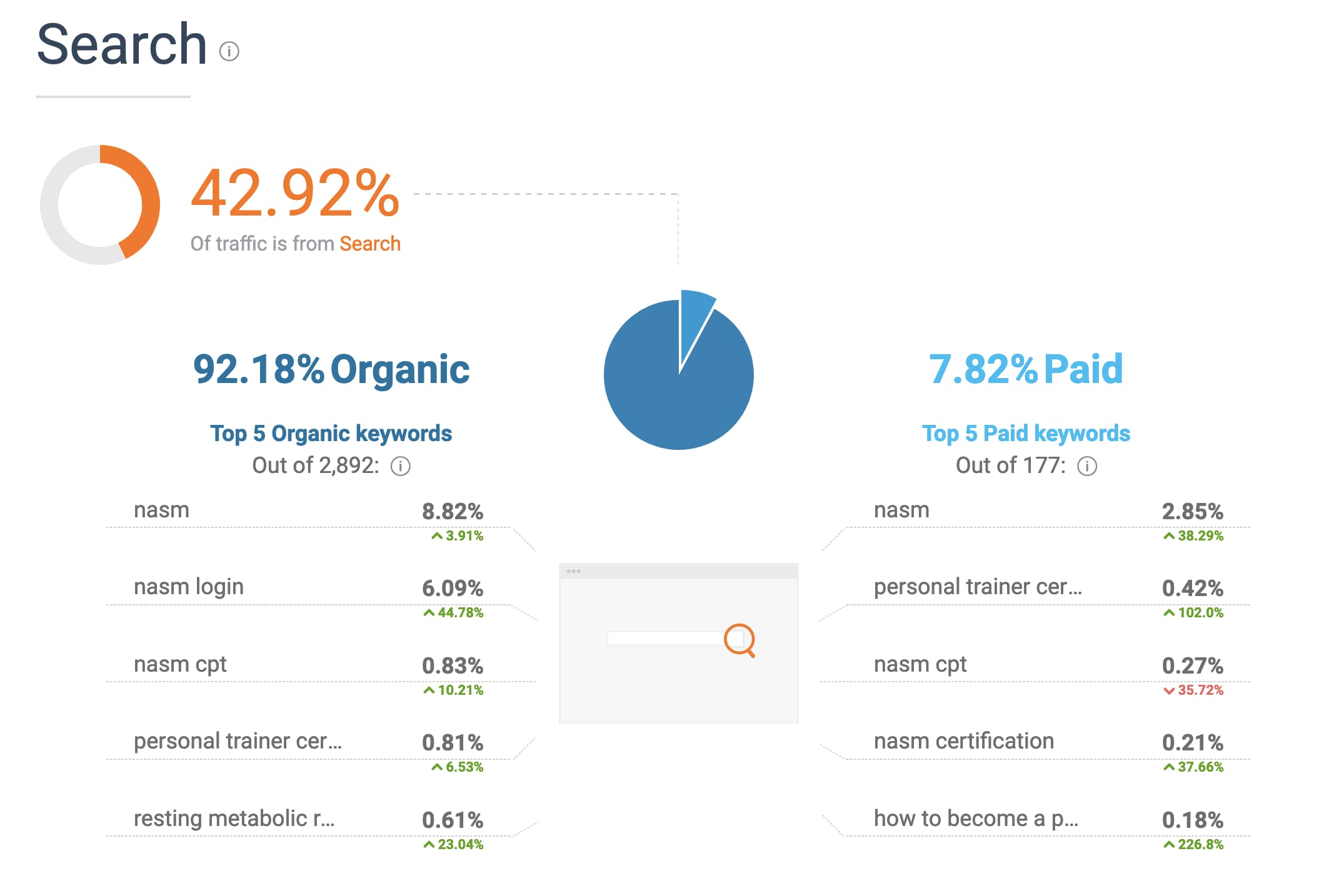 43% of the total traffic comes from Google search results, whilst only 7.8% of it comes from Google ads.
According to some online tools like SpyFu and Ahrefs, NASM uses more than 2,000-3,000 paid keywords in their Google ad campaigns targeting both USA and Canada.
With a majority of them focused on:
The Personal Training Certification
The Nutrition Coach Certification
The advantages of NASM over their direct competitors and
Other Specializations
and all of them leading to the appropriate Landing pages.
Now, we can start to see all the pieces coming together:
Someone searching for "how to be a personal trainer" or "best personal training certification" will be directed to a Landing Page, providing them with the exact information they were after when they ran a search.
As search intent is high and very targeted, Google ads is a fantastic tool that can be utilised in order to increase your conversions by capturing more leads and sales (if done properly).
Now let's talk more about Google Ads optimization. 💡
In order to further optimize your Google ads campaigns, the number one thing you should be doing is to create ad groups for the basic subcategories of your products or services so you're able to write a specific copy for specific keywords.
Some of your ad groups might even contain one keyword and that's okay! (This technique is known as SKAG – Single Keyword Ad Group).
The sole purpose of SKAG is to make a special copy on the ad according to the keyword searched by the user. This is how we achieve better CTR (Click Through Rate), quality scores and Conversion Rate.
See the format below:
Download the Google Ads Spreadsheet Template
Facebook Ads
Continuing on with NASM's advertising strategy, we took a look into their Facebook ads. For those of you who don't know, you can view every Business's Facebook ads via the Facebook Ad Library.
Our findings showed that NASM was running over ~100 or so ads, promoting each of their programs.
Below is a snippet of some of the ads they are running:
After analyzing their Facebook ads, we noticed that NASM used the following tactics:
Use of naturalised, unstaged images with real people
Still images over video content
Titles and text within the image
Short-form copy
Simple titles
No use of emojis
And here are some of the things we would do in order to drastically improve their ads, and land more leads:
More use of videos with actual moments, real students and in-class scenarios so the viewer can draw an emotional connection to the program. Pro tip: Facebook currently favors video content over static images and has been proven to reduce your CPA so take advantage of it!
Add video testimonials from real customers to continue building that trust (fantastic for remarketing campaigns)
Put a huge focus on the benefits as the aim here is to strike the reader's pain points and how you can solve them by purchasing your program
Create compelling long-form copy that reads like a short story or a friend's post – the more natural it reads, and the more scroll-stopping content you put out there, the higher the chance of converting prospects into buyers
Present a clear Offer either on the image or within the copy
Use emojis to draw attention to the eyes… it also helps to break up text and show breakdown emotional barriers, making you look more approachable and non invasive
Add a clear CTA with a link so visitors know exactly where to go and what to do
Now let's look at their ads again, do you see something different to most generic ads?
…Have you noticed that not only do they promote their certifications and programs but they also do something super special….
If you look to the bottom left, you will notice an ad inviting you to sign up for a Free Course 😮
What's that I see?!
This, my friend is what we call a Lead Magnet!
So what's a lead magnet and why are they great?
A lead magnet is a free asset offered by companies with the sole purpose of winning your email. A good lead magnet should provide the reader value by offering high quality content that is useful and most importantly, that is free.
NASM has done this nicely by creating value-adding lead magnets in exchange for your email, which they will send you a series of email sequences that are designed to convert you into a customer. We simply call this 'warming up a potential customer'.
And of course, again the visitor is directed to a specific Landing Page, whose sole purpose is to show the benefits & features of this free course in order to register, ergo collecting your personal info. to warm you up, at a later stage.
👉 Notice that throughout the ad, NASM is not trying to sell you anything. They're simply trying to grab your attention and collect some simple data – your email.
I know we're going on and on about collecting emails but remember, that an email address is more valuable than any other marketing campaign, simply because it's free and way more personalized (when done right!).
Pro tip: Always add value to your prospects, by offering them something practical and useful before trying to sell something to them at first site.
Now for the juicy stuff…
Chapter 3: SEO & Content Marketing
Earlier we saw that 43% of NASM's total traffic came from Google! And 92% of this came from Google organic results and not from ads!
Let me say that again… 92% of their traffic DOES NOT come from paid ads.
This means that 40% of their total traffic is due to SEO & Content Marketing!!!
Let's analyse their statistics via Ahrefs:
From these stats, we can obtain some pretty useful data so let's break down the noteworthy stuff:
DR (Domain Rating) is 77% – this shows us an overall score of the website which is predominantly based on the quality of external sources or referring domains.
Backlinks: 107K – are the number of pages worldwide who have linked to NASM's website
Referring Domains: 6.48K – are the number of websites who have linked to NASM's website
Organic Keywords: 119K – this is the most important metric as it shows us the number of keywords that's found for NASM on Google.
Organic Traffic: ~311K – are the number of monthly visits, calculated from the statistics provided by organic keywords.
So you might be wondering… how did NASM do so well?!
In short, in order to build, grow and maintain any SEO, you MUST do 3 things:
On Site Optimization
On Page Optimization
Off Page Optimization
With that said, let's see how NASM has done it!
On Site Optimization
These are all actions related to improving the core of a website at a technical level… to be specific here are some of the actions:
Remove Duplicate content
Fix Low loading speed
Optimize Large images
Optimize Large CSS & JS files
Fix 404 Errors
Fix Blank Canonical Tags
Submit sitemap to Google
Have a correct Website Structure
Do proper Internal Linking
Some of the best tools on the market to do a technical analysis is Screaming Frog and Ahrefs, which allow you to locate all of the above.
Other similar tools are URL Profiler & Sitebulb.
Once you've located these discrepancies, it's time to ask your marketer to fix them.
On Page Optimization
According to Backlinko, "On-page SEO is the practice of optimizing web page content for search engines and users". Common on-page SEO practices include optimizing title tags, content, internal links and URLs. It's all about the actions you should take in order to optimize your content and more specifically:
Use titles (H1) and subtitles (H2) to chunk your content
Add a meta description – should be up to 160 characters and include your main keyword
Write unique and valuable content – should be more than 1500 words and contain your main keyword plus some long-tail keywords
Use the main keyword in the first 100 words
Have SEO friendly URLs
Integrate both internal and external links into your content
Optimize your images
Off Page Optimization
What Is Off-Page SEO?
According to Backlinko: "Off-page SEO includes activities done off of a website in an effort to increase the site's search engine rankings." Common off-page SEO actions include building backlinks, encouraging branded searches, and increasing engagement and shares on social media.
In other words: off-page SEO is all the actions you take, that's NOT on your site in order to get Google and other search engines to see your website as trustworthy and authoritative.
Remember here, we're now looking at the Backlink stats.
As previously mentioned, NASM has managed to collect over 100k+ backlinks from different types of websites!
What could these websites be? Here's a short list of examples we found that are linked to NASM's:
Personal Trainers mentioning that they're accredited by NASM
Fitness Blogs promoting NASM
News sites that host paid articles or articles that point to the NASM blog, like this one from NYTimes
Online Deals & Promo websites offering coupons to NASM's programs
Review blogs comparing PT programs
Even spam websites (these should be avoided)
What are some of the things you should watch out for when building links?
Acquire natural backlinks and not paid (via Fiverr for instance)
Build relationships with other blogs or news websites
Reach out to complinearty, collaborative and relevant websites
Make sure the DR is above 10-20 and that the website is already ranking for some keywords
Pro tip: If you're in the fitness niche, it's far better to acquire 5 backlinks from websites like BreakingMuscle.com (example) than buy 200 for $5 from a cheap and spammy SEO marketplace.
Content Marketing
We previously saw that NASM had several organic keywords for which they rank for on the first pages of Google.
Sure, they've done the right on page and off page optimizations, which play a huge role in SEO development but what is it that maintains consistent growth?
And drum roll please…
That's the blog!!!
As shown earlier, NASM ranks for approximately 119K keywords worldwide and approx. 80K in the US alone!
And the blog is responsible for 60K of them!
In conclusion, the blog is their BIGGEST asset when it comes to increasing organic traffic as it's responsible for most of NASM's organic traffic.
Below are some of the keywords that are responsible for the most blog traffic as well as the corresponding articles:
And this is just the tip of the iceberg…There are more than 650+ articles in their blog!…Wow.
Few key things to point out here that these 3 blog posts all have in common:
They are all educational – Their intention is not to sell but to educate people. This works miracles for their top of the funnel traffic because they are appealing to a large segment of their audience – people that not only want to buy their programs but are also interested in health as well. This increases their brand awareness exponentially!
They are all optimized – In the content you will find headings and subheadings, bullet lists, long content, use of media (images/videos), use of focus keywords plus some long-tail keywords, use of internal & external links, including a proper meta description and the list goes on but these are the main ones.
They are all shareable – All of the articles have been created with the intention to be shared so as to increase virality and exposure. People love to share interesting articles to their friends and family… which means more traffic for NASM!
We've just covered the basics of content marketing and effective blog writing and it's a topic we could write a small novel about, but the 3 key points above will help you improve your current content marketing strategy/get started!
Download the SEO Blog Guidelines
(PDF version)
Content Promotion
Finally we wanted to talk about content promotion, because these articles aren't going to be shared on their own!
In order to have a solid content marketing strategy in place, you have to share those gems!
As a matter of fact, when it comes to blogging, you have to follow Parreto's 80/20 rule:
80% promotion and 20% production.
Given that competition is fierce and you are sharing content everywhere (see below) we must discover "another technique" in order to increase the impact of our own content on a daily basis.
So what does this mean exactly?
It means that even if you put maximum effort to write "THE BEST ARTICLE IN THE WORLD", you'll see that it adds no value…unless your audience sees it.
Reasonable? Yes!
Fair enough? Yes!
Did NASM do it? Clearly!
We live in an era where you should not only invite your family and friends to read your content, but everybody in between.
So another pro tip…promote your content!!!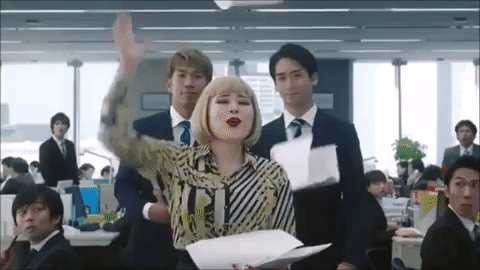 Ok, ok I hear what you're saying but where??
How NASM achieved this is pretty simple. We can see that they've shared their content to the following channels. There are most likely more outlets yet these were the ones we found within the first 5 minutes of searching:
Social Media (Facebook Page & Instagram)
Facebook Groups
Fitness Forums
Facebook Ads
Guest blogs (Bonus: collecting backlinks at the same time…double whammy!)
Over time, good content is rewarded! But how?
With positive comments & genuine engagement on Social Media
With backlinks from authoritative blogs and publishers
By reducing the bounce rate
With steadily increasing traffic
Here's where we think you should be promoting your content!
Check out the PESO model:
1. Paid Media
This is all about the channels that will promote your content for a fee. These are as follows:
Facebook Ads: Use the right targeting (demographics & interests) to attract a "cold" or "Top of the Funnel" audience to your assets or even create a retargeting campaign to people who have visited your assets in the past (using a Pixel)
Sponsored Tweets: Similar to Facebook, use Twitter ads to display your content high up in the news feed.
Linkedin Ads: Here the CPC (Cost Per Click) is more expensive but in any case it is a medium that is worth trying if your business has the means
Reddit Ads: The largest forum in the world. Apart from organic reddits, it's definitely worth investing a small amount for ads as it can bring in some high quality traffic
Sponsored Blog Posts / Banners / Advertorials: Developing collaborations with relevant blogs or magazines will bring you into contact with "new eyes".
2. Earned Media
This is typically the most "difficult" communication channel since in order for your content to be published, you must have developed collaborations and mutually beneficial relationships in order to work with them. Here are a few worth mentioning:
Publishers (eg nytimes.com etc)
Sponsorships
Influencers or Ambassadors
Affiliates
PR & associates
Guest blogs that publish our content in return for reward (could be monetary or a guest post on your blog)
3. Shared Media
As the name says it – these are your Social channels that you can take advantage of and self promote:
Social Media:
Facebook (Page & Profile)
Instagram
Snapchat
Linkedin
Twitter
Pinterest
User Generated Content, such as large forums/wikis:
4. Owned Media
Utilise all of your digital assets and publish your content where possible to create omnipresence! Some of these assets are:
The blog + Push Notifications (see PushCrew)
Youtube channel for videos
Podcasts
Social media channels (Facebook, Twitter, Instagram etc)
Email list where you send out newsletters
The Messenger list where you send out broadcasts
Webinars
Ebooks
Medium.com
Final Thoughts
The strategies used above are what continues to grow NASM's digital presence, which inevitably leads to high quality leads and sales!
Their inbounding marketing approach is holistic and well thought out, creating omnipresence which in turn has paid off as they are one of the most recognised organisations within their niche.
NASM has almost perfected their growth strategy and have taken advantage of every digital channel relevant to their business model.
Every lead collected is automatically transferred to their CRM whereby the Business Development / Sales team takes over and converts these high quality leads into sales.
So there you have it! This is the exact digital strategy NASM has used to build their online business.
If you have any questions or interested in setting up your own inbound marketing strategy, feel free to contact us here for a free 45 minutes strategy call and we can tell you how!
Download the NASM Case Study
(PDF version)